Cheesetique Classics Then and Now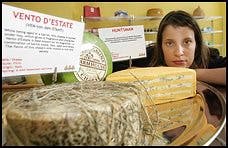 "The Only Cheese Shop in Town"
The Washington Post, September 2004
Fresh
Honey Goat:
if we run out, we have a mutiny on our hands; creamy, velvety goat + fresh honey = cheese heaven
Purple Haze:
the perfect way to dress up a soft goat is to mix in lavender and fennel pollen
Baked Lemon Ricotta:
not really fresh, but super-soft and delicate; the lemony tang makes this a treat all by itself
White Stilton w/ Mango & Ginger:
sweet, spicy, and oh-so-decadent
Bloomy
d'Affinois:
still our #1 most popular cheese overall! If you don't like it, there's something wrong with you.
Humboldt Fog:
soft-ripened goat with dense creamy paste and a dreamy ash layer
La Tur:
my favorite 3-milk cheese (plus, it's super adorable)
Semi-Firm
Drunken Goat:
great name, great wine-soaked rind, great cheese overall
Raw Milk Manchego:
sweet and mellow with a sheepy "oomph" from the raw milk
Boschetto al Tartufo:
means "basket of truffles" in Italian. 'nuf said.
Firm (

couldn't

pick just 3)
Midnight Moon:
aged goat that will redefine anyone's idea of "goat cheese"
Beemster XO:
perfect for eating and as a weapon (it's über-hard)
Parmigiano Reggiano:
shocker. King of cheeses indeed!
Prima Donna:
the "first lady" of Goudas, with butterscotchy goodness throughout
Mimolette:
the orange bowling ball (impossible to cut but oh-so-delicous)
Piave Vecchio:
my favorite cheese for over 15 years (*sigh* I love it so)
Blue
Roquefort Papillon:
raw sheep's milk creates a sweet base for this intense blue. Of all Roquefort producers, we like Papillon best.
Colston Bassett Stilton:
the Stiltonest of the Stiltons; a life-changing blue
Cambozola:
Brie and blue combined? Yes, please!
Washed Rind
Taleggio:
texture like icing, aroma like a foot in the face, flavor like grass and earth
Epoisses:
a little pillow of funkiness; the longer it sits, the gooier it gets
Morbier:
one of the largest washed rind cheeses; two levels of intensity with a beautiful ash layer in between