5 Questions for a Simple Board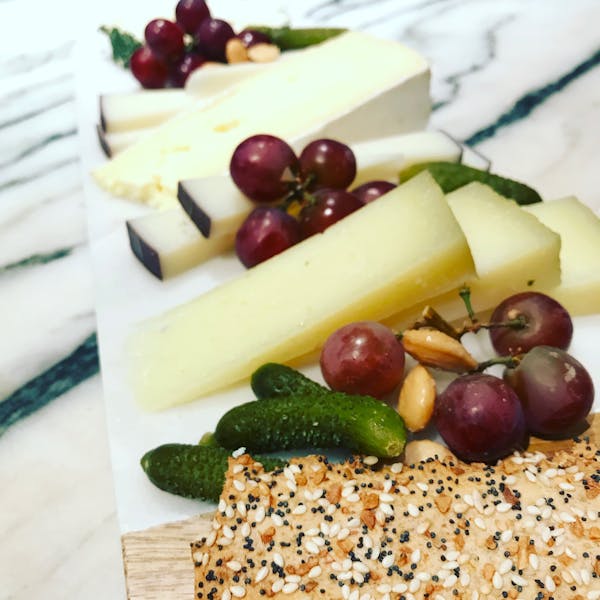 I am often reminded how simple, but also how daunting, making your own beautiful board can be. Unsure of the "rules," folks often follow none at all, just tossing a piece of cheese on a plate with some crackers. Don't let the rules befuddle you. YOU CAN DO IT! Answers to these five simple questions are all you need:
1) Who?
Cheese novices? Opt for more approachable selections. Vegetarians? Skip the charcuterie (or serve it separately). Kids? Keep things mild and colorful.
2) How Much?
Select 3-5 cheeses for variety without overwhelming your guests.
For an appetizer or dessert, serve 3-4 total ounces per person.
For a main course, serve 5-6 ounces per person.
3) Which Ones?
Offer different looks, tastes, and feels.
Start with one soft-ripened, one semi-firm, and one hard cheese.
Throw in one or two with interesting colors and/or flavors.
4) With What?
Bread & crackers: sliced baguette, raisin nut bread, interesting flatbreads. Tip: serve more than one!
Savory: Nuts, pickles, olives & mustards add savory tang while creating a beautiful visual element.
Sweet: Fruit jam, quince paste, or honey. Fresh and dried fruits add additional sweetness, acidity, and color.
5) How?
Allow cheeses to sit for an hour so they are their most flavorful.
Provide a knife for each cheese so cheeses don't mingle.
Allow access (remove hard rind, point cheese outward, leave space).
Provide cheese labels (if you have time).